**Hey all, so my self-hosting  got delayed and now it won't be done until sometime in the next few days— fingers crossed everyone who is subscribed will transfer but if you don't get new posts next week, then come back to the site…it's prob because of the transfer, not because I haven't posted.  Thanks, guys!**
Now, to talk about how to be happier at work.
I don't care who you are or what job you have, at some point, you're going to struggle with the "I don't want to work today!" thing or the "Ugh, I'd MUCH rather be somewhere else today" thing.  I've been at my job for 3.5 years (wowza, longest time at a job to-date!) and so like normal, I have my good days and my "blah" days.  And no matter how awesome your job is, we often need a pick-me-up….especially when it's sunny outside and you're just itching to go play.
Whether it's a gray cubicle, a corner office with a window, or if you work from home in your PJs, work is…well, it's work.  And free time is always much more fun.  We spend 40+ hours there every single week, so we might as well make it happier if we can!
Here are 5 things that can make you happier at work:
1)  These really cute photo cubes from Shutterfly.
Seeing people you love (especially if the're babies or puppies) will always make you happier.  How cute is this cube?  It won't take up much space on your desk and you can switch the side facing you depending on your mood.  I haven't bought one yet, but I'd put in vacation photos, photos of Charlie as a puppy, photos of Jared, and photos of my sis and my friends so I can look at all the things that make me happy on a regular basis.   So cute and really inexpensive.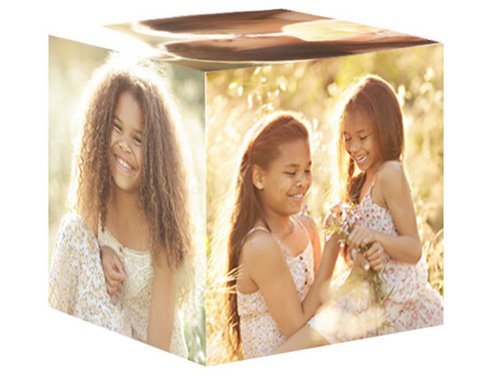 2 )  Pandora
Listening to music always improves any mood, keeps you upbeat, and helps the day go faster.  It's not an option for every job, but if you can wear earplugs at your job, listen to music a couple hours a day.  I don't do this often enough, but whenever I have to write a grant or a memo, it helps me tune out the office chatter and focus.
3)  Eat lunch outside.
Sometimes it seems like a lot of effort to grab all your food and take it out of the office to eat.  However, once you get outside, you'll realize it was well worth the effort.  Just a little fresh air or some time away from the desk helps immensely.  Plus, in the summer time you'll get a dose of Vitamin D to improve happiness too.  And for me, spending even 15 minutes outside helps me feel like I did "something" during the day besides work.  Even better than just sitting outside?  A quick walk.

4) Create a vision board that you can see while working.
Maybe it's a photo of an amazing vacation spot you really want to go to.  Maybe it's a big screen tv or a new pair of expensive shoes.  Tack something up near your desk where  you can see it to keep you motivated.  You are working for the paycheck, afterall, so might as well know that all your hard work gets you something fun!
5)  Plug quotes into your calendar
Spend a little time plugging your favorite quotes (or silly jokes) into your calendar for the next year and set them to send reminder pop-ups or emails.  Then, when you least expect it at a random time of day, a fun motivation quote will pop up on your screen.  Hopefully the surprise "gift" to yourself will at least make you smile, if not have some extra motivation to get you through the day.

— What do you do to improve your work day?  Anything to add to this list?
— What do you do for work?  How long have you been at your job?
— Which of these suggestions did you like best?